text.skipToContent
text.skipToNavigation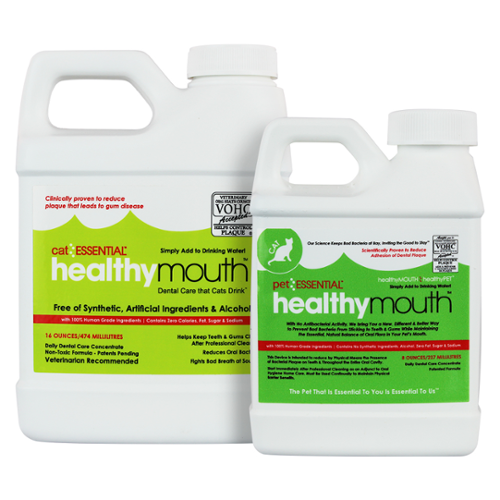 Healthy Mouth Essential Cat
Product Description
Recommended by leading board certified veterinary dentists around the world, Healthymouth is the first and only dental water additive to receive the prestigious VOHC Seal of Acceptance for plaque control in cats. Its patented formula contains 100% human grade ingredients, is free of all synthetic, artificial ingredients, alcohol and contains no calories, fat, sugar, or sodium. It is clinically proven to reduce plaque by greater than 85%.
Product Information
Extends the benefits and value of professional dental cleaning. With ongoing veterinary care and continual use of healthymouth at home you absolutely can improve your pet's dental health; no matter how late in life or grade the stage of dental disease. IT IS NEVER TOO LATE. No synthetic or artificial ingredients means your pet is ingesting only safe, healthy ingredients.
Active Ingredients
Purified water, Organic glycerine, Organic pomegranate, Organic yucca extract, Zinc gluconate, Organic blueberry, Natural Xanthan Gum, Organic Papain (Papaya Enzyme), Riboflavin (Vitamin B2), Ascorbic acid (Vitamin C), taurine, mercury-free Salmon Oil (Omega-3), Organic Clove Extract, Organic Cinnamon Extract, Chlorophyll, Sorbic acid (Natural preservative derived from Mountain Berries).
Directions for User
Shake the jug well. Using the included pipette, measure 5 ml of concentrate (one teaspoon) and add it to a one quart jug of fresh water. Use this mixture to fill and top-up your pet's water bowl. Refrigeration is optional but do not leave concentrate or treated water in direct sunlight. If your pets go through a lot of water, you can add 20 ml (one tablespoon plus one teaspoon) of concentrate to a one gallon jug. When first starting to use healthymouth water additive, you should introduce it to your pet's drinking water gradually. Begin by mixing a little treated water with plain water for a few days then gradually increase the amount of treated water while decreasing the amount of plain water until you are giving just treated water. Once you have made this conversion, treated water should be in your pet's bowl at all times for best effect. Treated water may also be mixed in with your pet's food. When you have used the litre of treated water, clean the jug, clean the bowl and mix a fresh batch.
Special Precautions
If your cat is on antibiotics after its dental or extractions, we recommend not starting Healthymouth until antibiotics are stopped. Antibiotics can upset your pet's stomach. If your cat is currently on any long-term antibiotics or other medications, or has any known hypersensitivity or allergies please confer with veterinarian before starting product. The ingredients are cold pressed and unfiltered. Therefore, there is sediment, like the pulp in your orange juice. Over time, the small particles of dark green sediment in the treated water will clump together giving the appearance of something "growing" in the water. It is just the sediment and it is supposed to be there. It is not a problem.